At Dutton Dental Concepts, we understand how important it is for the care of your patients and the success of your practice to have access to reliable and innovative dental implant solutions. We use all original equipment by default, so you can be confident that the parts used in your patients implant restorations are of the highest quality possible, and your warranties will remain intact. We also, upon request, offer a variety of value options as well for economy cases. You'll find a fantastic selection of abutments at our dental lab. Learn more by contacting Dutton Dental Concepts today.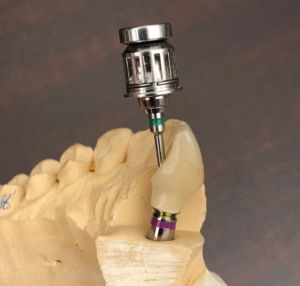 Angled Screw Channel Screw-Retained Crowns and Bridges
Solves the esthetic challenges faced when screw-retained solutions are placed in the anterior and improve occlusal access in the posterior.
Angulated screw channel solutions provide improved esthetics and easier access and are available thru many implant manufacturers.
The angulated screw channel gives you the option to place the screw access hole anywhere between 0° to 25° in a 360° radius. That means you can now perform a screw-retained restoration in almost any situation — without the risks associated with excess cement.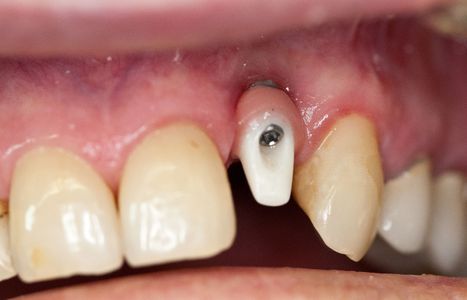 Dutton Custom Abutment
The Dutton Custom Abutment was created to provide natural esthetics when the white wax-up indicates that pink or white porcelain is needed at the cervical. Our abutment yields a seamless appearance to the restoration. With three gingival shades to choose from, a strong and beautiful smile can be made for every patient. Gingival shade samples are available and we will be pleased to send them to you at no charge.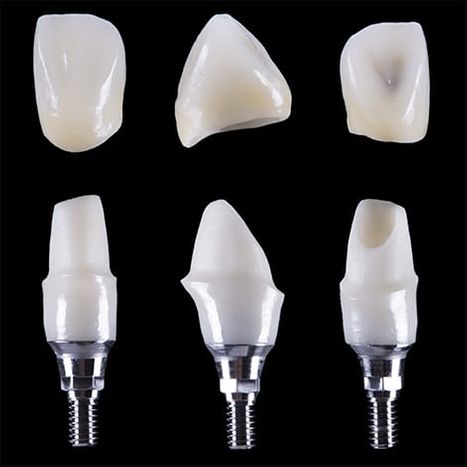 Zirconia Abutments
By combining esthetics, strength, precision, reliability, and simplicity in one product, the Atlantis™ abutment in zirconia delivers the ultimate esthetic solution to clinicians, labs, and patients. Atlantis' proprietary integrated design and manufacturing process provides a patient-specific, multiplatform zirconia abutment that needs no additional modification prior to placement.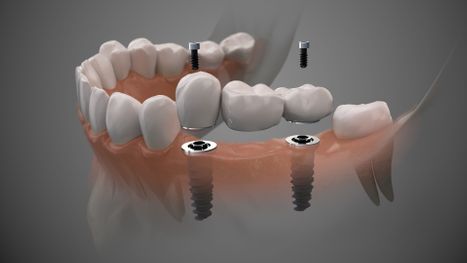 Screw-Retained Crowns and Bridges
A fixed detachable screw-retained crown or bridge implant restoration combines the porcelain crown or bridge and metal abutment(s) into a single piece with a screw access hole for direct attachment to the implant. Once in place, the hole is filled with a tooth-colored composite. these can be made from most materials and be full contour, hand layered, or a combination of the two.

Custom and Angled Abutments
Our custom abutments are designed for the best tissue management and emergence profile possible for your patients. They are available in Titanium, yellow anodized Titanium, White Gold, CrCo, shaded Zirconia, and as one-piece screw retained crowns.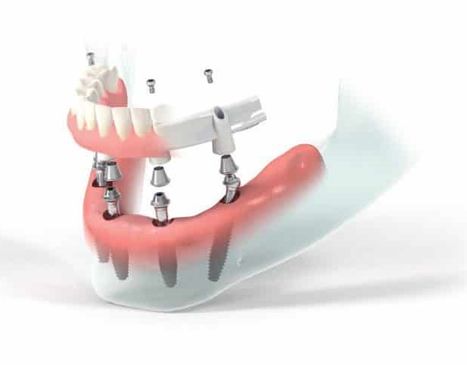 Multi-Unit Abutments
With the use of multi-unit abutments, divergence problems between implants can be a thing of the past. Fixed/screw-retained options are available for most implant systems.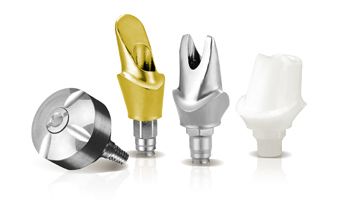 3i® Encode™ Abutments
Encode™ Healing Abutments have codes embedded in the occlusal surface. These codes provide the information necessary for the ideal anatomical design of the final Encode abutment. Laser optical scanning interprets these codes off of the cast and enables the design of the appropriate abutment in CAD software. The virtual abutment is then milled to the precise design from a solid piece of titanium alloy. You deliver Patient Specific Restorations® that support soft tissue and have the ideal margin height and natural emergence contours from only an impression of a healing abutment.
Contact Dutton Dental Concepts to Learn More
If you're interested in learning more about dental implant solutions or are ready to work with our dental lab, contact Dutton Dental Concepts today.