Crown & Bridge Solutions From Our Dental Lab
At Dutton Dental Concepts, we offer a number of dental crown and bridge solutions that can be customized to meet the needs of your patients. We are committed to providing dentists who choose to partner with our dental lab with high-quality crowns and bridges that you can be proud to offer your patients. When you work with Dutton Dental Concepts, you can have complete confidence that you are providing your patients with a premium product that they can count on for years to come. To learn more about partnering with us, reach out to our dental lab team today.
Our Crown & Bridge Solutions
We understand the need for consistent, high-quality dental solutions. At Dutton Dental Concepts, we take immense pride in providing our clients with the absolute best in crowns and bridges. We strive to help you give your patients the highest quality of care and the best results. Our experienced dental lab professionals create superior restorations that are individually crafted with precision and attention to detail. We offer a variety of materials and options to ensure that each restoration meets your patient's needs.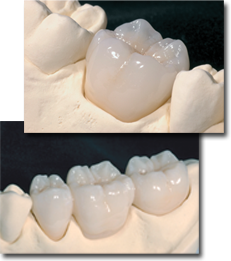 IPS E.Max® Crowns
IPS e.Max® delivers the ultimate in metal-free esthetics and strength, utilizing both Pressable and CAD/CAM technologies. Designed with versatility and simplicity in mind, IPS e.Max lets you select from multiple framework materials and allows for predictable shade matching even with difficult combination cases. IPS e.Max enables Dutton Dental Concepts to produce the highest quality esthetic restorations using the most progressive fabrication methods.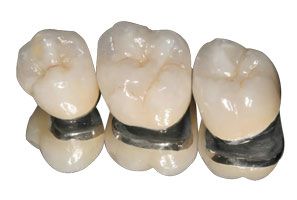 Porcelain-Fused-to-Metal
Porcelain-fused-to-metal (PFMs) crowns remain popular due to their esthetic resemblance to natural teeth, their anti-microbial biocompatibility, and their proven strength. At Dutton Dental Concepts, we combine superior Avanté™ porcelain with a variety of alloys from noble to high noble, yellow to white, and non-precious. At our dental laboratory, we would be happy to make available any product that will meet your requirements.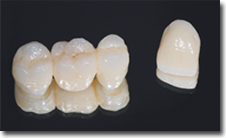 Multilayer PMMA Acrylic Temporaries
Multilayer PMMA is a revolutionary, lab-processed provisional material that combines exceptionally high flexural strength with best-in-class esthetics. This unusual combination of brawn and beauty enables you to insert PMMA temps into your lineup in a variety of roles. With multilayer PMMA, you can create lifelike diagnostic restorations that will help you manage patient expectations.

Strong and Translucent Zirconia Crowns
Never before have we been given this level of freedom in a restorative material. Whether anterior or posteriors, single crowns, or multi-unit cases up to 47mm in span, our variety of Argen HT and ST zirconias offer outstanding esthetics with dependable and functional results. Zirconia offers strength, biocompatibility, and beautiful esthetics for metal-free crowns and bridges. These can be prescribed full contour or can be cut back and layered for an even more realistic look.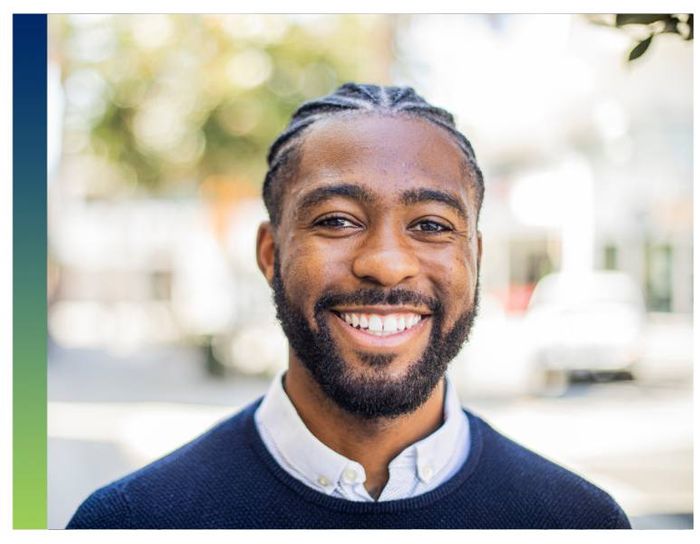 Customized Dental Crown & Bridge Solutions for Dentists
At Dutton Dental Concepts, we understand that each patient is unique. That's why we work with dentists one-on-one to create customized dental solutions to meet the needs of each patient specifically. When you work with our dental laboratory, we'll gladly consult with you on cases to help identify and produce the bridge, crown, or other dental solution that will work best for your patient.
Experience You Can Count On
Dutton Dental Concepts is trusted by dentists across the country for their crown and bridge needs. We use advanced digital technologies to craft precise, natural-looking restorations that last. Our technicians are highly skilled and experienced and are dedicated to providing the highest quality of care. With 50 years of experience, you can rely on us to provide you with an exceptional product every single time.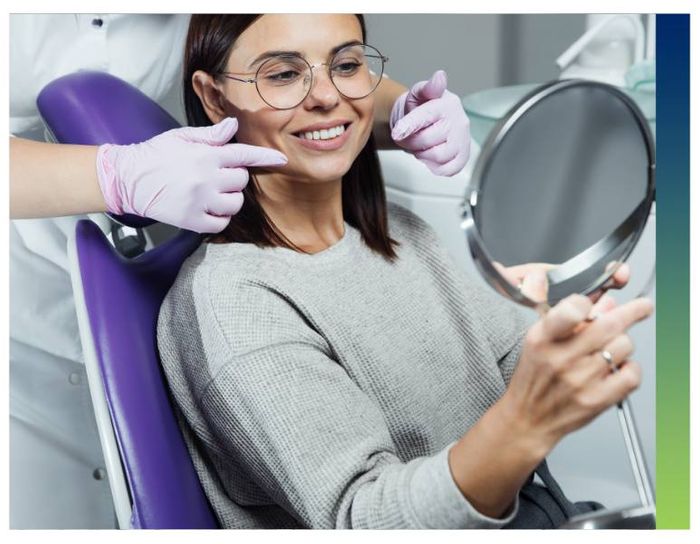 A Partner You Can Trust
If you're looking for a partner that can provide superior crown and bridge solutions, look no further than Dutton Dental Concepts. Our team of experts will work with you to create the perfect solution that meets the individual needs of your patient. Whether you have a simple, straight-forward request, or require a consultation, we are here to help.
Learn More About Our Crowns & Bridges
At Dutton Dental Concepts, we are committed to providing the highest quality solutions for your patient's oral health needs. If you'd like to learn more about our dental crowns and bridges, contact the dental lab at Dutton Dental Concepts today.