Implant Denture Restorations
Dutton Dental Concepts is your trusted resource for cutting-edge implant denture restoration solutions. As a full-service laboratory, we are committed to providing dentists nationwide with high-quality, customized prostheses that deliver exceptional results so your patients are given the best implant denture restoration solutions.
We offer a number of solutions from Locator overdentures to Swivel-Loc precision attachments and more! With our state-of-the-art technology, skilled technicians, and unwavering dedication to precision, you can trust our dental laboratory to meet all your implant restoration needs.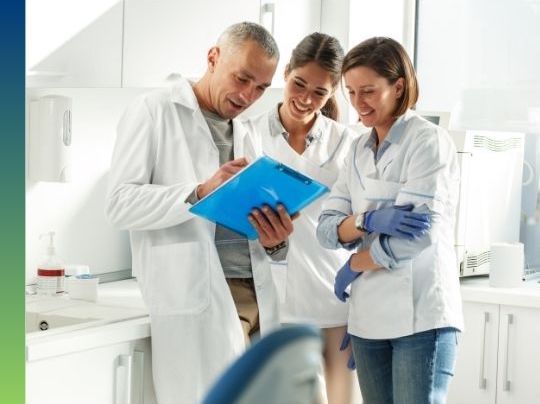 Exceptional Customer Support
At Dutton Dental Concepts, we believe in fostering strong partnerships with dentists. Our dedicated denture restoration team is always available to answer your questions, address concerns, and provide technical assistance throughout the implant process. When your patients are happy, we're happy — that's why we offer competitive pricing and will always put your practice needs above our own!
Types of Implants We Offer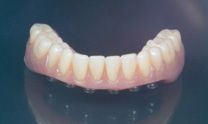 Fixed-Detachable (Zirconia or Hybrid)
This fixed-detachable prosthesis is a screw-retained restoration requiring a minimum of four implants. The system is removable only by the doctor and can be fabricated both as a more conventional high-water restoration and as a fixed bridge, and can be made of esthetic zirconia or a titanium bar wrapped in acrylic. A partnership with Dutton Dental Concepts ensures that these processes are completed with the end in mind to achieve a functional and esthetic result.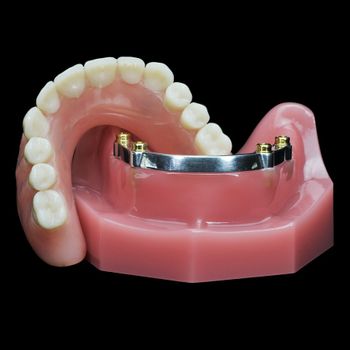 Locator Bar Overdentures
Locator Bar Overdentures are fabricated using Locator® attachments and CAD/CAM precision milled bars. The Locator Bar Overdenture distributes occlusal loads more evenly across all implants and is indicated for patients with a heavy bite and when the implants have been placed in softer bone; the prosthesis is tissue and implant-borne.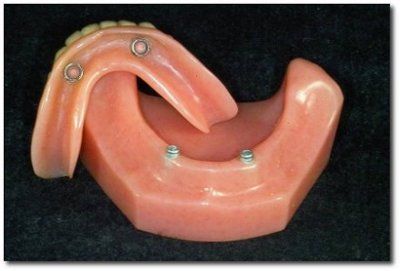 Locator Overdentures
The Locator Overdenture is the restoration of choice when you need a solution for a case with inaccurately aligned attachment components, and we can now custom design locators for perfect parallelism. Doctors will find that the denture is extremely secure and patients are pleased that they can easily snap in their own dentures.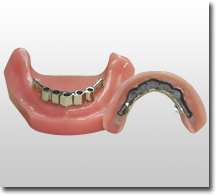 Swivel-Loc Precision Implant Restoration
The Swivel-Loc Precision Milled Bar is a highly advanced procedure for fabricating a combination of fixed and removable precision implant prosthetics. A system of this nature offers a variety of options to fit the individual requirements of the patient.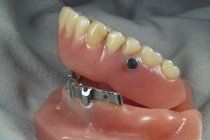 Lew-Loc Precision Implant Restoration
The Lew-Loc system works for either unilateral or bilateral applications. It also maintains maximum esthetics and enhanced hygiene accessibility while still granting proper phonetics. For the first time, the dental technician is able to machine both primary and secondary attachments at the same time, in a single operation, with both attachments in exact relationship to each other.
Our Implant Denture Restoration Process

Consultation and Case Planning
We will always collaborate closely with dentists to understand the unique needs and goals of each case. Our team meticulously plans the implant denture restoration process to ensure the best outcomes for each patient's prostheses.

Digital Scanning and Design
We take the impressions of each patient's oral structure and utilize CAD/CAM software to design the restoration with utmost precision.

Fabrication and Milling
Once the design is in place, we employ our milling machine to craft the restoration using materials like zirconia or porcelain — ensuring durability.

Quality Assurance
Before finalizing any restoration, our dental laboratory rigorously inspects each piece to ensure it adheres to our quality standards.

Timely Delivery
We understand the importance of timely delivery. Our and production capabilities allow us to deliver your denture implant restoration promptly — allowing you to meet your patients' needs without delay.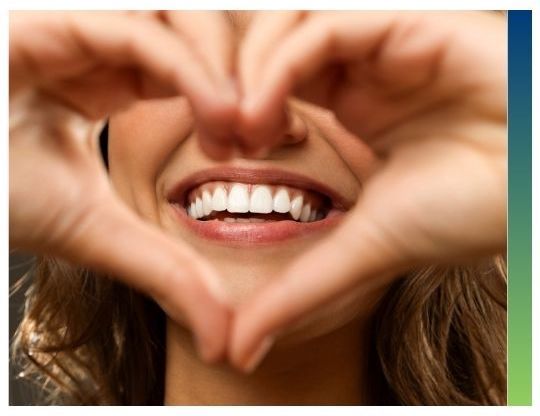 Why Choose Us
Unparalleled Expertise

State-of-the-Art Technology

Family-Owned

Customized Solutions

Comprehensive Restoration Options

We Put Customers and Clients First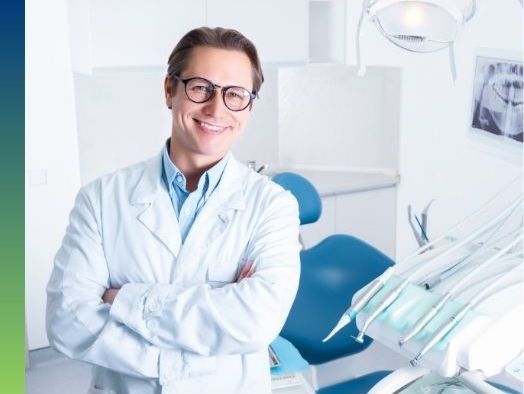 Partner with Dutton Dental Concepts
When it comes to implant denture restoration, precision and expertise are crucial for your patients. With Dutton Dental Concepts as your partner, you can rest assured that you are providing your patients with the best possible care. Our dental laboratory's commitment to quality, personalized solutions, and efficient service makes us the ideal choice for dentists nationwide.
Contact Dutton Dental Concepts
Contact us today to discover how Dutton Dental Concepts can elevate your implant denture restoration services and take patient satisfaction to a new level. Let us be your reliable dental laboratory and support your dental practice in delivering outstanding patient care.