Implant Denture Restorations
Providing your patients with the best implant denture restoration solutions is essential for the success of your dental practice. At Dutton Dental Concepts, we offer a number of solutions from Locator overdentures to Swivel-Loc precision implants and more. Contact us today to learn more about implant denture restoration solutions.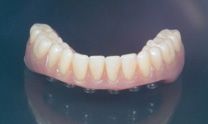 Fixed-Detachable (Zirconia or Hybrid)
This fixed-detachable prosthesis is a screw-retained restoration requiring a minimum of four implants. The system is removable only by the doctor and can be fabricated both as a more conventional high-water restoration and as a fixed bridge, and can be made of esthetic zirconia or a titanium bar wrapped in acrylic. A partnership with Dutton Dental Concepts ensures that these processes are completed with the end in mind to achieve a functional and esthetic result.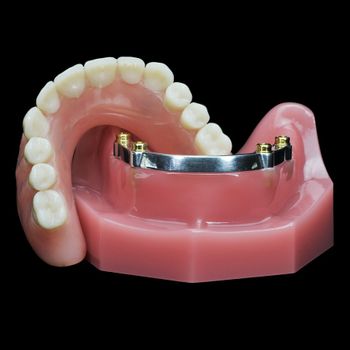 Locator Bar Overdentures
Locator Bar Overdentures are fabricated using Locator® attachments and CAD/CAM precision milled bars. The Locator Bar Overdenture distributes occlusal loads more evenly across all implants and is indicated for patients with a heavy bite and when the implants have been placed in softer bone; the prosthesis is tissue and implant-borne.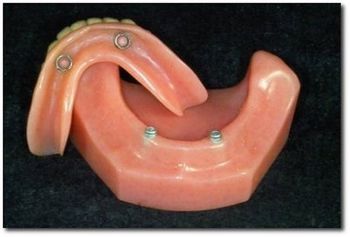 Locator Overdentures
The Locator Overdenture is the restoration of choice when you need a solution for a case with inaccurately aligned attachment components, and we can now custom design locators for perfect parallelism. Doctors will find that the denture is extremely secure and patients are pleased that they can easily snap in their own dentures.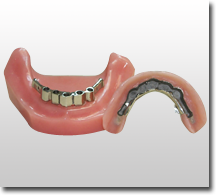 Swivel-Loc Precision Implant Restoration
The Swivel-Loc Precision Milled Bar is a highly advanced procedure for fabricating a combination of fixed and removable precision implant prosthetics. A system of this nature offers a variety of options to fit the individual requirements of the patient.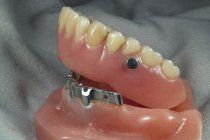 Lew-Loc Precision Implant Restoration
The Lew-Loc system works for either unilateral or bilateral applications. It also maintains maximum esthetics and enhanced hygiene accessibility while still granting proper phonetics. For the first time, the dental technician is able to machine both primary and secondary attachments at the same time, in a single operation, with both attachments in exact relationship to each other.
Learn More About Our Implant Denture Restoration Solutions
When you're in need of high-quality implant denture restoration solutions for your practice, Dutton Dental Concepts is the dental laboratory to call. Contact us to learn more or to start partnering with us today.